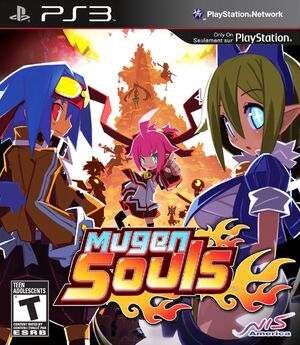 If you can't beat them, peon them!
A good ruler does not always have to resort to violence to conquer the universe. In the lore of Mugen Souls, there exists an amnesiac little girl who proclaims herself as the Undisputed Goddess of the universe named Chou-Chou who lives her life believing that everything should revolve around her own desires.

Chou-Chou awakens, seeing 7 glittering objects in outer space and all she could think about was making them her. She has the ability to make anything to her own by changing into one of her seven other forms that they seem to be most attracted to so she can use the power of "Moe" (charm). The 7 Worlds are named after the Japanese 7 days of the week which are: Sun World, Moon World, Fire World, Water World, Tree World, Metal World and Soil World. After drifting off for a long time, she meets up with an angel who wants to do evil deeds and a young man who loves her death. All 3 of them now become friends and mutually agreed on taking over the universe.

The basic plan of world domination originally meant enslaving every creature in the entire universe which sound impossible so one of her peons suggested on only going for the strongest beings on each world and recruit them to the party. Throughout their conquest, a recollection of a forgotten friendship unravel and the true meaning of happiness is discovered. In the end, her whole adventure of conquering worlds ends up being a little letdown. The final result was that she was reclaiming something that had originally belonged to her.
Gameplay

Databases




Party Members

Peon classes

Non-playable Characters




Locations
Ad blocker interference detected!
Wikia is a free-to-use site that makes money from advertising. We have a modified experience for viewers using ad blockers

Wikia is not accessible if you've made further modifications. Remove the custom ad blocker rule(s) and the page will load as expected.